Registry – HackTheBox WriteUp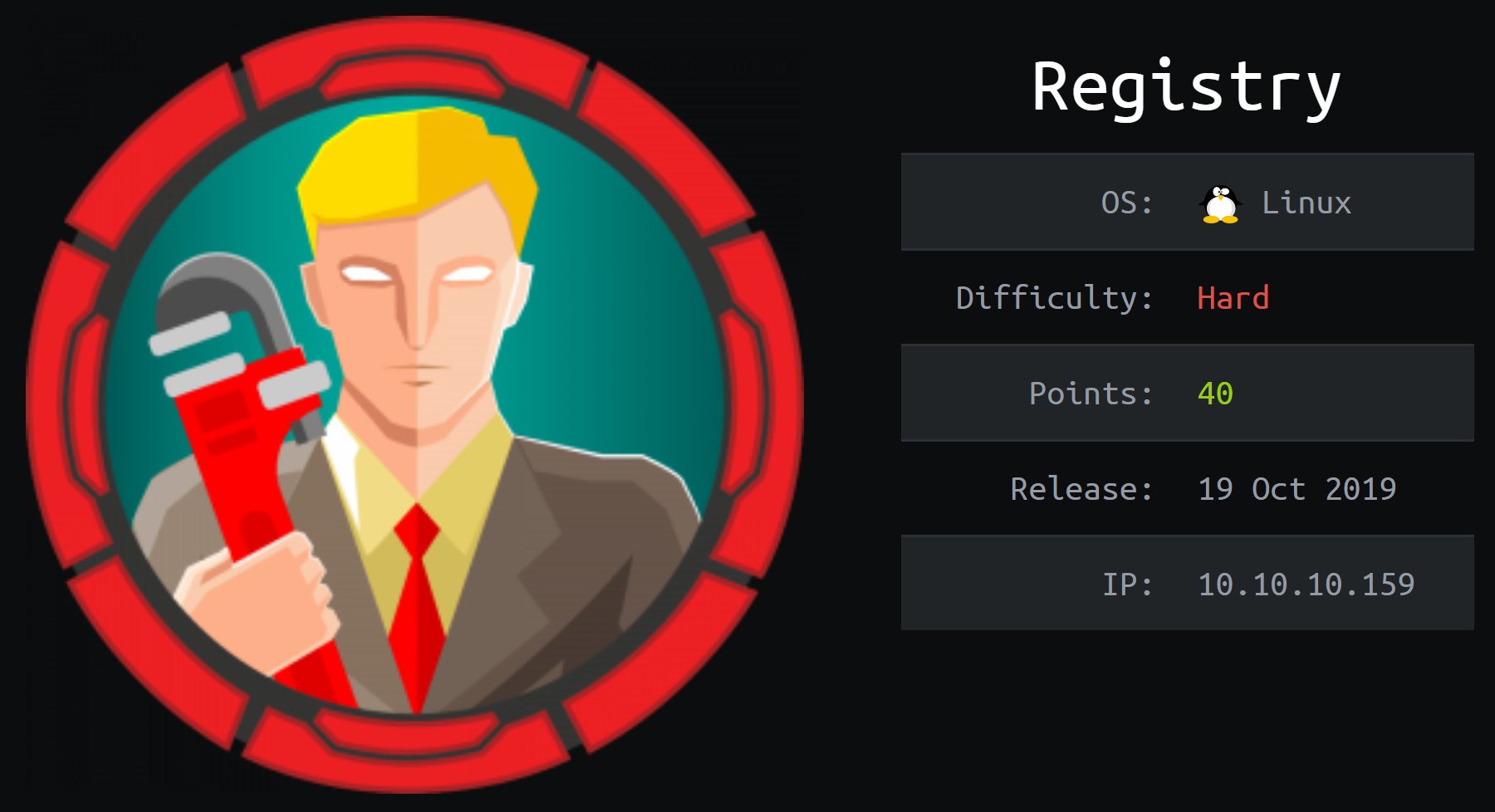 Summary
Registry just retired today. I had lots of fun solving it and I learned how to use a backup program called restic. Its IP address is '10.10.10.159' and I added it to '/etc/hosts' as 'registry.htb'. Without further ado, let's jump right in!
Scanning & Domain Enum
A basic nmap scan was enough to get me started:
Ports 80 and 443 served the same, default nginx page:

Dirb found a directory called 'install', however, I discovered it was a non-ASCII file by accessing it:

I then downloaded the file to my computer and used the 'file' program to see if the data isn't just garbage:
The file was a gzip archive, so I tried to extract its contents:
The certificate wasn't very helpful, however, the 'readme.md' file hinted that there's a private Docker Registry running on the machine. Docker Regitry use an HTTP API, so I concluded that there was probably another (sub-)domain. I used nmap to search for other sub-domains in the machine's HTTPS certificate:
'docker.registry.htb' returned a blank page:
After reading about Docker Registries online, I tried getting a list of available dockers by accessing the following URL:
I was asked to enter credentials for HTTP authentication, so I just enterd admin/admin and it worked 🙂
Getting user.txt
After a bit of googling around, I found docker_fetch, a program that "will help you pull docker images from a private registry using Docker Registry API".
I had to modify the program a little so it supported HTTPBasicAuth. Also, I disabled the 'insecure request' warnings. The python file I used can be found below:
I then used the following command to untar all the files in the 'bolt-image' directory:
The resulting folders and files resembled a Linux file system:
I was then able to find a private SSH key for the 'bolt' user:
However, when I tried connecting to the actual machine, I was prompted for a passphrase. I found an interesting script in root's .viminfo file:
The script contained the passphrase for the SSH key:
I didn't want to enter the passphrase every time I connected as 'bolt', so I removed the passphrase from the private key:
The user proof starts with 'yt' 😉
Getting Credentials for the CMS
Once I submitted the user proof, I started enumerating the machine. I found an file with interesting content named backup.php in the /var/www/html directory:
I figured out that I could get root by exploiting restic. However, bolt wasn't allowed to execute the program with elevated privileges. This made me think that I first needed to pivot to www-data and then find a way to exploit restic.
I also found another folder named bolt in the /var/www/html directory:
As the readme.md file stated, bolt is a simple CMS program. The changelog.md file quickly revealed the service's version:
Like most CMS platforms, bolt required credentials to identify admins. I managed to find the program's database (bolt.db) and to extract the admin's password hash:
After doing that, I used johnTheRipper to crack the newly-obtained hash:
The password of the admin account was… strawberry 🙂 I used those credentials to log in:
Pivoting to www-data
I found this vulnerability online. Basically, an attacker can upload an image and then change its extension to .php and the code will get executed. I crafted the image using the following command:
I uploaded my file by visiting the following URL:

You might remember the backup.php file. That file resets the 'bolt' folder every few minutes, so it's perfectly normal for files to disappear. I didn't manage to find a workaround; I just re-uploaded them 🙂
When I tried to rename my file, I got a strange error. I spent a lot of time trying to bypass that, but then I realized I could just edit the config file and make the CMS accept .php files. I did that by accessing the following URL:
The allowed file extensions list can be found on line #240. I added php at the beginning of that list: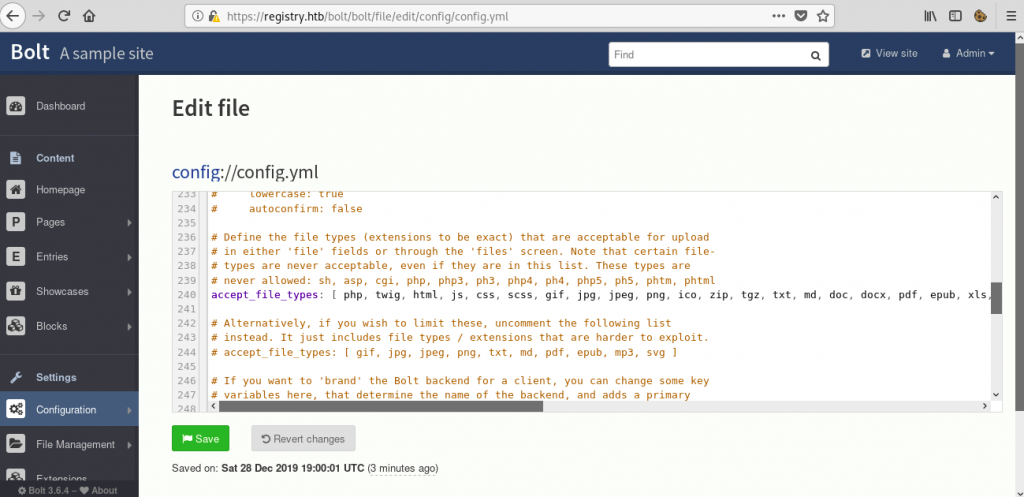 After I clicked the 'Save' button, I uploaded 'yakuhito.php', which was just 'yakuhito.jpg' with a different name. I then accessed the file and added a 'cmd' parameter to see if I had achieved command execution:

It worked! This time, however, I didn't spawn a reverse shell.
Exploiting restic
After I was able to execute commands as www-data, I copied my shell to /var/www/html, because /var/www/html/bolt was reset every few minutes:
I then ran 'sudo -l' to see how restricted were the restic commands www-data could run as root:
Great! The commands have almost no restrictions. The only switch I had to use was -r rest, which basically specified an URL for the restic HTTP API instance that's going to store the backup. That might sound complicated, but all I had to do to start that server locally was to clone this repository and enter 2 commands. First, I started the server:
However, the backup repository was not initialized. I installed restic locally and used the following command to create an empty repository:
In case you are wondering, the password is simply 'backup'. I had to access local port 1337 on a remote server, so I used SSH remote port forwarding:
The next step was to backup root's SSH key to the remote repository (I first backed up root.txt, but then I realised I could get a shell by obtaining root's id_rsa file). Unfortunately, restic does not allow users to provide passwords via command lines, and I didn't have an interactive tty to write the password. The solution was simple: use the -p switch, which loads the password from a specified file. I created that file using the following commands:
After creating the required file, I just had to run the following command as www-data:
(of course, I used my .php shell 🙂 )
The file was succesfully backed up, so I retrieved it on my local machine and used it to connect as root:
The root proof starts with 'nt' 😉
If you liked this post and want to support me, please follow me on Twitter 🙂
Until next time, hack the world.
yakuhito, over.
Published on April 4, 2020