Control – HackTheBox WriteUp
Summary
Control just retired today. I had lots of fun solving it, especially writing a PowerShell service bruteforce script. Its IP address is 10.10.10.167 and I added it to /etc/hosts as control.htb. Without further ado, let's jump right in!
Scanning & Accessing Admin's Page
A basic nmap scan was enough to get me started:
There were only 3 open ports, and port 80 looked more interesting than the others. When I opened it in a browser, the following page loaded: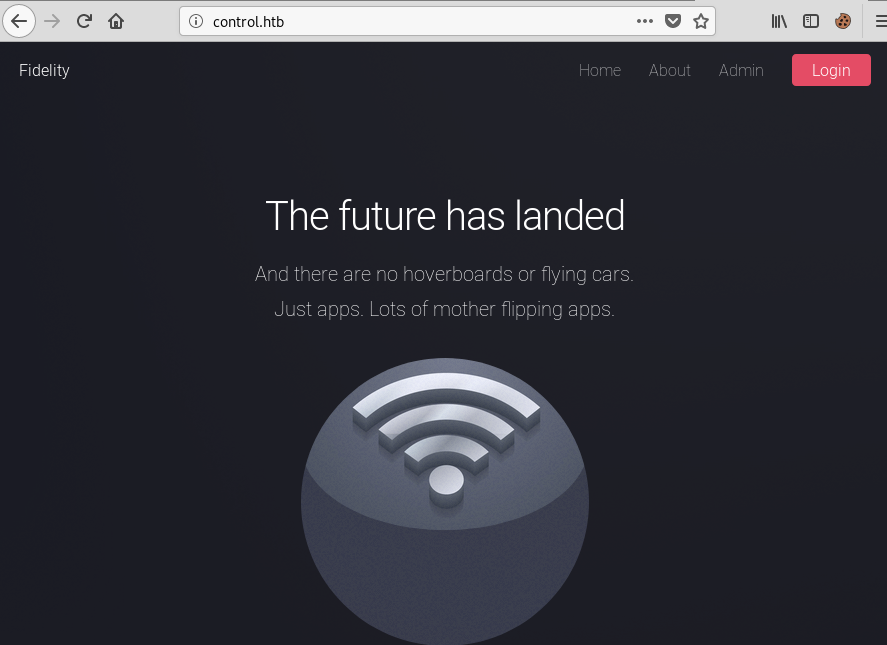 Because the site looked custom-made and I accumulated some experience with HTB (see badge at the bottom of the page), I instantly clicked the 'admin' button and got the following error page:

The page was talking about a proxy. I assumed that the PHP script checked some headers to verify whether the user is using the proxy or not. However, I did not know the proxy's IP address, so I continued enumerating. I found the following comment in the main page's source code: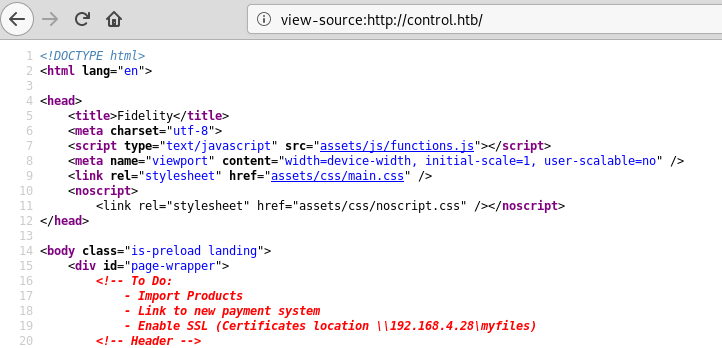 The proxy was probably located at 192.168.4.28. To get acces to the admin panel, I opened Burp, intercepted the request and added an 'X-Forwarded-For' header. After the insertion, the request looked like this:

After forwarding the request, the admin panel loaded:
Manually Exploiing the SQL Injection
There was a list of products which could be viewed, modified and deleted. I assumed the script used an SQL database to store this information and I began testing for injection points. By searching for ', I got an error:

Knowing that the backend DB is MariaDB, I captured the request in Burp and tried sending a valid UNION statement. After a few tries, I got the following payload:
According to the nmap scan, the server was running Widnows. I used this information to create a PHP shell:
I then tried to run 'whoami' on the target machine to confirm that the injection worked:

Getting a shell this way is usually ok, however, due to the nature of this box, I prefered to use SQLMap to upload a better shell.
Using SQLMap for File Upload
One of the beft features of SQLMap is the ability to parse an HTTP request and test all parameters. You don't need to specify a host or anything related; SQLMap will figure that out. In my case, the request file (named req.txt) contained the following text:
Identifying the injection with SQLMap was pretty straightforward:
As I said before, I wanted a more advanced webshell. I usually use this one. I downloaded it to my computer and saved it as 'yakuplusplus.php'. After that, uploading it to the remote machine took only one command:
The new shell was located at /yakuplusplus.php:

A small problem appeared: I couldn't upload any files to the wwwroot directory because I didn't have the required permissions. Luckily for me, the wwwroot/uploads directory was writeable. Now that I had an easier way of uploading files and executting commands, I uploaded a netcat binary and created a reverse shell using the following command:
After executing the command, a reverse shell connected on port 443:
Getting Hector's Password
Since the current user had no home directory (meaning no user.txt file), I enumerated the machine's users:
I didn't have Hector's password yet, so I started enumerated the config files of the web app and found some credentials:
Using that password for Hector didn't work, but it made me realise there could be more accounts for the database. I used SQLMap to test out my theory:
There was a user named hector, so I tried to crack his hash using john:
The password for hector could be 'l33th4x0rhector'. However, I did not have a way of verifying this credentials (yet).
Becoming Hector
After some more enumeration, I saw that port 5985 was open:
However, nmap didn't report it as open. This made me conclude that the port was only opened on localhost. I knew evil-winrm could authenticate as Hector if it could access that port, so I used plink.exe to make it accesible from my machine:
I forgot to mention that I uploaded plink.exe using the web shell. The binary can be found on all Kali distributions (run 'locate plink.exe' to find it). After forwarding port 5985, any traffic directed to my machine's port 5985 would be tunneled to Fidelity's port 5985. This meant that I could finally authenticate as Hector:
The user proof starts with 'd8' 😉
Bruteforcing my Way to Root
The first interesting thing that I uncovered during enumeration as Hector was his PS history:
Since the name of the box is Control and Hector looked at the CurrentControlSet registry, I knew that privesc had something to do with it. My theory was that some services might have insecure permissions (e.g. Hector could modify them - this is bad because services are usually started by SYSTEM). To test my theory, I used Microsoft's accesschk.exe tool:
There were lots of services which Hector had access to edit. However, I couldn't exploit all of them: in order to succesfully become SYSTEM, I needed to change the service's binary path to a reverse shell (granted by KEY_ALL_ACCESS) and also be able to restart the services (not included in the KEY_ALL_ACCESS permission). Since I couldn't find a way to see which services I can restart, I just used the scrit below to try and exploit each service:
After uploading and executing the script, a reverse shell connected on port 444 with NT UTHORITY/SYSTEM privileges. The restartable service seemed to be 'NetSetupSvc', though I'm not sure if it's the only one:
The first two characters of the root proof are '8f' 😉
If you liked this post and want to support me, please follow me on Twitter 🙂
Until next time, hack the world.
yakuhito, over.
Published on April 25, 2020